How can we design a children's shoe service that reduces waste by growing with the user?
Combat waste streams caused by traditional production by exploring biodegradable materials, replaceable parts, and a service-based consumer model. ♻️
Class: Industrial Design Studio Spring 2021
Team Member: Al Ramos, James Krasner, Michelle Shin
My Role: Ideation, Research, Prototyping, Visualization, Presentation
Tools: Adobe Indesign, Keyshot, Sewing, Molding, Sketching
​​​​​​​Physical Product 🪚
"Footprint" is a two-piece children's shoe. Utilizing a strap and slide mechanism, the shoe is able to expand up to 2 sizes. This combats waste by aiming to reduce the number of shoe parents need to buy for their children during the rapid growth stages of development. It is designed to be manufactured using a soft biodegradable foam. Such material is derived from algae oil. The experimental foam is able to actually break down as opposed to just dividing into Infinitely smaller pieces known as "microplastics" as traditional foams do. 
By exploring a subscription-based service model our team hoped to develop a true "closed-loop" system for the targeted user to participate in. By returning the shoes when they are outgrown not only does the user receive an incentive to purchase the second pair through a discount, but the shoes would theoretically be broken down into material to be recycled for more shoes.
What causes waste?
- Children's shoes are outgrown every 2-3 months.
- Current shoes are designed with materials that last a lifetime, not for the appropriate product life.
- Consumers prioritize the newest, cutest, or most trendy designs.
After deciding on the focus of our design, we began rapid prototyping through CAD, 3D prints, sewing, and origami.
Growth in both length and width while retaining comfortability and style proved to be a challenge. Through prototyping, we were able to begin to understand our design decisions and their relationship to the material we wanted to use for production.  ✅
Our team decided that a tightening mechanism was the best option for our design moving forward. We continued to explore this two-part idea. There would be a stretchable inner "sock" and an adjustable outer sole. 👟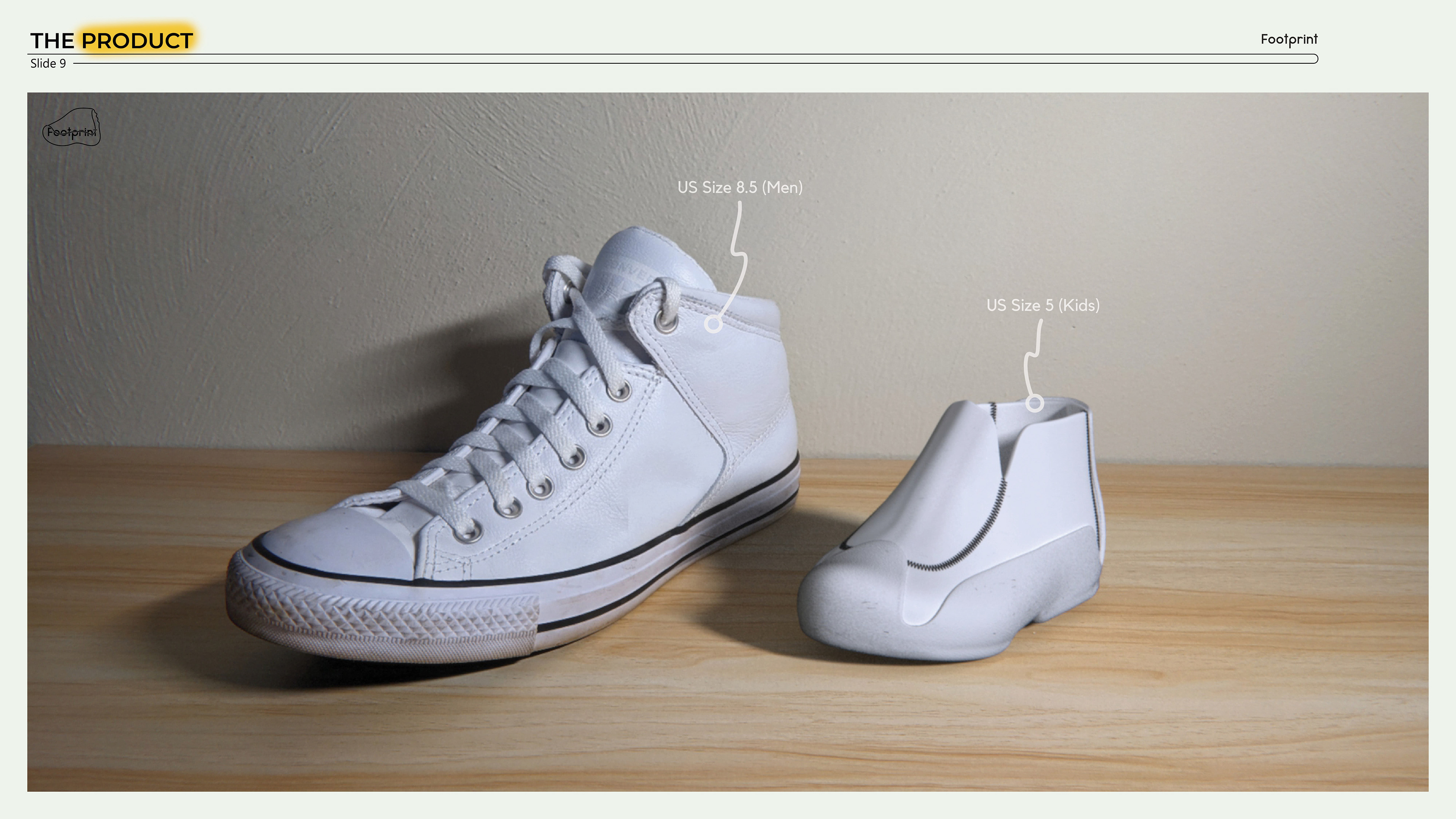 Then our design took a turn.... ↩️
After meeting with our professors, we decided to adjust the design. It was recommended that we think more about the growth mechanism in order for it to accommodate a larger margin of adjustment. This resulted in the final design pictured at the beginning of the page.
We wanted to make sure our packaging was in line with the sustainable mission of the product as well.
This project was completed during the online semester because of COVID-19. Our team did an amazing job of collaborating digitally and physically to produce such an amazing final design. The entire online learning process was extremely challenging, but it taught me as a young designer to comprise and be adaptable.
- (1) Dr. Ramos, A (2021, March 3). Children's foot health (telephone Interview)
- (2) How fast do children's feet grow? (2021, Febuary18). Retrieved March 22, 2021, from
https://www.littletreads.com.au/blogs/new/how-fast-do-children's-feet-grow
- (3) (2011, May 03). Recycling with sole from 
https://www.waste360.com/Recycling_and_