How might we redesign Macronaut to be aligned with Apple's existing branding and user experience?
Macronaut's redesign should be consistent with the forerunners in Apple's arsenal of products. It should integrate seamlessly technologically as well as visually.
Class: Professional Practice 2021
Team Member: Aziza Louri, RJ Weaver, Ana Lewis
My Role: Ideation, Research, Visualization, Presentation
Tools: Adobe Indesign, Figma, SolidWorks, 3D Printing
Macronaut is an existing attachable lens for iPhone. It allows a dermatologist to quickly snap a photo of a questionable skin blemish and upload the image to a medical

form (

RubiconMD). The image is then debated virtually. This practice allows the provider to have a more accurate gauge of whether or not to have their patient see a specialist. 
​​​​​​​
Problems with preliminary design 🚩
We evaluated the available solutions to the issue and found that what existed was either entirely too clinically focused and overcomplicated, like a multi-million dollar device, or too consumer-focused like the market-available macro lenses that communicate hobbyist activities rather than dermatological use. The existing Macronaut fell in this category as well. Where some lenses look overly complex for a process this simple, the Macronaut appears too basic and toy-like.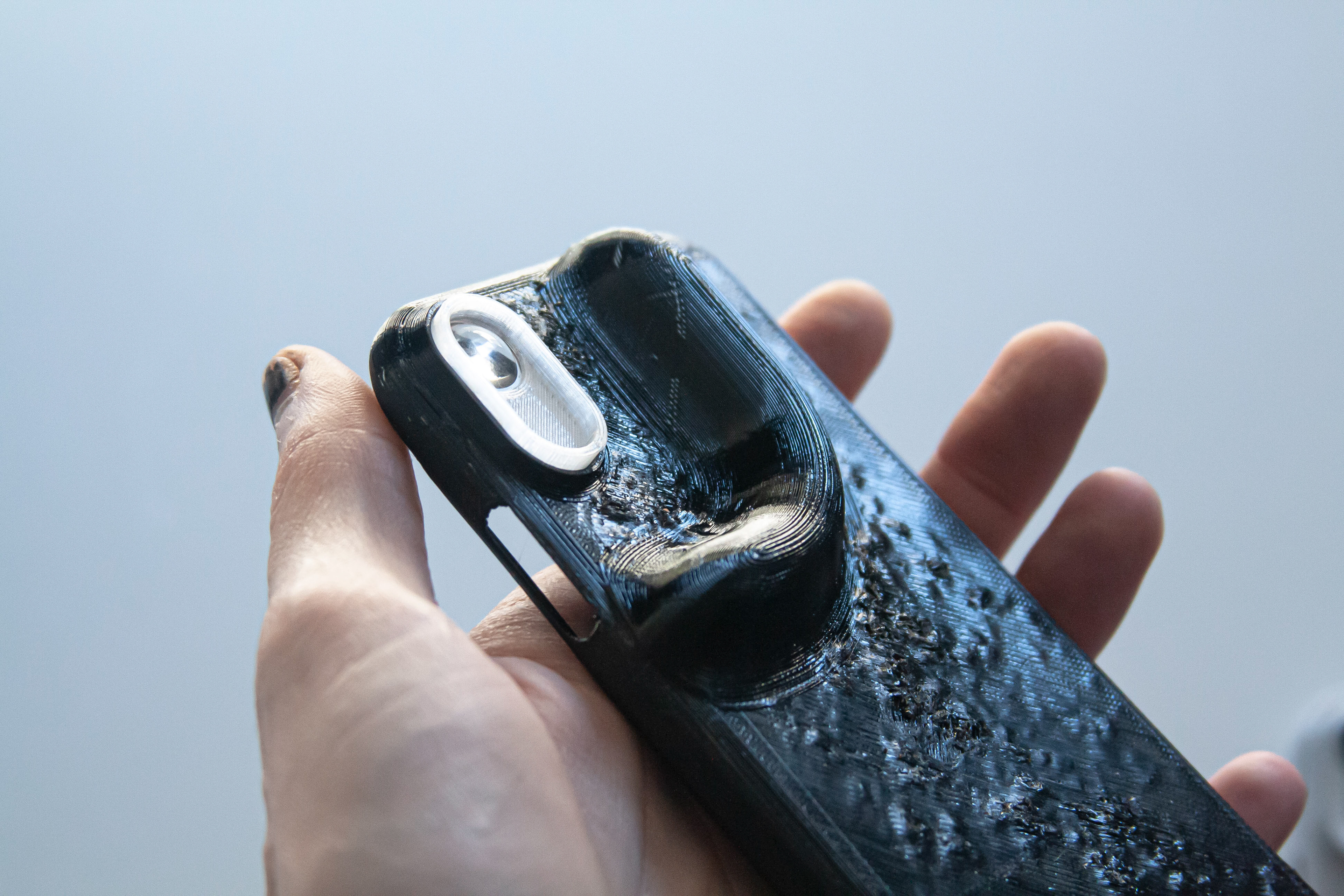 ​​​​​​​Apple iRis is a fully encompassing Macro lens case that fits seamlessly into the Apple ecosystem. The cases come in sizes for all of the currently available iPhone models, and multiple colors, although just the space gray is pictured here. The glass lens is fit into a stainless steel housing, which is magnetically attached to the case, over the existing camera lenses. The macro lens can then be removed at any time, giving the user the flexibility to capture macro photos only when needed. 
This silicone case also features a soft, raised curve, which defines the focal length and allows the medical professional to rest the phone on the skin as easily and comfortably as possible. Both orientations, landscape, and portrait are covered by the 90-degree curve around the lens.
The glass lens of iRis allows the LED embedded next to the cameras to shine through while looking at the skin, assisting the photo quality in low-light environments.
In considering our UI, we catered to both healthcare providers and patients. Patients can login to the app using their designated patient PIN (the model currently used in the RubiconMD app) to maintain their health privacy. From there, they can see a history of their eConsults under their profile, and click on anyone to view its' history or upload new documents.  For example, if a patient wants to check on their latest eConsult, they can view it specifically to see the documents they had submitted in the past, message their provider, or upload new photos. If they choose to, the UI will prompt them to use their Apple iRis to take a detailed photo of their skin condition. They can then verify that photo and upload it to their healthcare provider. Alternatively, if the dermatologist is using the app, they can select that option and undergo a similar login system to be brought to a homepage profile where they can view their patient submissions and messages. Here, they can see the submission we saw from the earlier patient. The dermatologist can see the newest submission as well as old ones and has the option to message the patient if they need more documentation or they have questions. If not, they can receive details about the newest submission along with any notes that accompany it from the patient to assess the skin condition. If necessary, they can also easily submit to their forum of experts to seek further consultation. 
In order to achieve an accurate redesign, our team had to thoroughly research Apple's current brand. While Apple's missions statement is to "bring the best user experience to its customers through innovative hardware, software, and services", we evaluated their line of products and approach to marketing to determine another overall goal. That is, developing a product ecosystem that serves as an exclusive pinnacle of quality.
We placed Apple in the upper left quadrant on the brand identity grid. Apple is incredibly consumer-driven and meant for people with the means to fit their products into their lifestyle. They are mildly clinical in that they're clean and unquestionable (you trust the newest iPhone to work flawlessly), but, more than anything, meant to be perceived as easy to adopt.